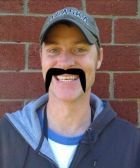 Some of you may have noticed that my avatar recently changed and that I have a nice fake moustache on my photo.  This is because I'm participating in Movember.  Movember challenges men to change their appearance and the face of men's health by growing a moustache. The rules are simple, start Movember 1st  clean-shaven and then grow a moustache for the entire month.  The moustache becomes the ribbon for men's health, the means by which awareness and funds are raised for cancers that affect men.  Much like the commitment to run or walk for charity, the men of Movember commit to growing a moustache for 30 days.
Now my reason for joining Team RDU is two-fold.  First I want to do my part to help with the fund raising efforts.  Second, my father passed away nine years ago to prostate cancer and I really have missed him since.  I know that my participation cannot bring him back but it can help others facing prostate cancer.  Losing a loved one sucks.  And I know there are many men out there much younger than my father was that are facing this terrible disease.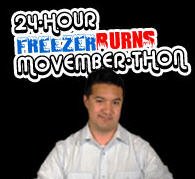 In creating awareness for the campaign our team captain, Greg Ng (@gregoryng) has done something creative and fun, Movember-thon.  Some of you know Greg from his web TV show, Freezerburns (@freezerburns) where he reviews frozen food items.  Last week Greg announced that he would do a 24-hour live show and sold off time slots for co-hosts to raise money for Movember.  I jumped at the chance to participate and help raise awareness for the cause.  You can see me tomorrow, November 5 at http://live.freezerburns.com/ at 10 am to see me review a frozen food item with Greg and raise some additional funds for the cause.  The event starts at midnight tonight if you want to catch all 24-hours!
Another tactic team members are doing to create awareness and raise funds is to take photos of themselves each day to show the growth of their mustaches.  I'm using Daily Mugshot to track my growth.  Also each day myself and others are posting photos to Twitter, Facebook, LinkedIn and other social networks to spread the word.  Movember is not just limited to male participants.  Women can join the cause as Mo Sistas and can raise funds.
You can also donate during the entire month of November at .  No amount is too small and I thank you for any contribution you can make, including sharing this post with your friends.  At the end of Movember, TeamRDU will be hosting a gala to thank our friends and sponsors.  Find out more at http://rdu-movember.eventbrite.com/.