Square Jaw Media is about marketing communications and the processes, tools and techniques used to create and produce marketing campaigns.  Brian McDonald started this as a blog to document strategies and techniques he had used over his experience and developed into a consulting practice in 2010.  During this time Brian wrote about many of the exciting Raleigh social media events where great knowledge was being shared.  In reading this blog we hope that you gain some knowledge and insight as well as learn a few tips and tricks.
Brian McDonald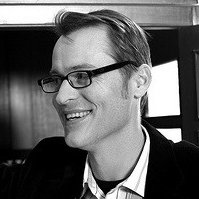 Over the past 20 years Brian McDonald has worked in all facets of marketing. From corporate and agency PR to website development and events planning, Brian's experience has allowed him to understand the full breadth of marketing programs. Brian started his technology journey with desktop publishing software and migrated to web and online applications at the early stages of the web. Brian McDonald's experience has been primarily in the software industry but he has also worked in healthcare, manufacturing, public sector, telecommunications and publishing.
Brian McDonald has  the ability to build consensus among various internal and external stakeholders of a 100 year old trade association. His leadership and vision led several associations into the digital age by creating custom content management and e-commerce solutions that improved performance, increased productivity and delivered value to members from day one of launch.
While at Zencos Consulting, Brian McDonald was  marketing the leading SAS Institute Alliance consulting partner and launched two new subsidiary brands. One in economic development Software as a Service (SaaS) market and the other in the entertainment and media market as a wi-fi service provider.
At the same time Brian McDonald created and launched the social media presence for the Triangle Chapter of the American Marketing Association and currently serves on the board as President-Elect. The suites of social network sites includes Facebook, Twitter, LinkedIn, YouTube, Slideshare and a blog.
Brian McDonald has worked and partnered with many Fortune 500 companies like Verizon, Ericsson, Energizer, AOL, Sun Microsystems, SAS Institute, Square D and IBM among others.
Specialties
Social Media Strategy and Execution
Content Strategy Development
Interactive Website Design and Development
Marketing Strategy and Execution
Writing and Editing
Corporate Identity and Brand Development
Web and Graphic Design
Event Planning and Staffing
Public Speaking and Presenting
PMP Certification