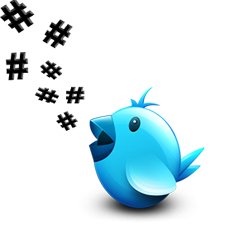 I saw the program for a social media conference recently that had 16 unique hashtags peppered throughout the agenda program.  My first reaction was why?  Some of the hashtags were the city and state name of the event location while others were plain generic like #Day1 and #blogging.  The event had a unique name that should have been the main hashtag used to create awareness of the event.  However by placing up to five hashtags for each agenda item the event hashtag got lost.
This is the wrong strategy for several reasons.  First it dilutes the main brand that you are trying to promote and position. Secondly tracking the tags to measure chatter volume will be inaccurate when you have tags like #RaleighNC or #SeattleWA that may be used by tourists or economic development tweeters.  Third and most important, you are confusing the very people attending the event that need to understand how to use social media effectively to communicate.
Most of the seasoned professionals in any discipline go to events for two reasons: to speak and to network.  They don't go for professional development and education.  Sure they may pick up a few tips but they are not there to ramp up knowledge quickly.  The attendees that shell out their hard earned money are there for that.  They want to build up expertise quickly, find starting points for new projects and save time determining what thought leadership blogs they should be reading.
A novice may see multiple hashtags and wonder what they are, what purpose do they serve and how are they used?  By bombarding them with multiple keywords in hashtags the event staf is confusing them and not teaching best practices.  Part of me thinks that the reasoning behind putting multiple hashtags on a conference agenda or signage is to look sophisticated, smart and savvy.  This is when I love to yell at these people through my screen, "You're doing it wrong!"
Tom Webster (@webby2001) puts out a tweet when he speaks at or attends events stating, "For those of you following at home, the hashtag is…" Tom gets it and knows that there are interested people not at the event that want to share in the information and knowledge being presented.  Multiple hashtags makes it frustrating and irritating for those following the event and not realizing that the hashtag they are tracking is only one of several.
What do you think?  Is having multiple event hashtags smart or confusing?